by Bigelow Homes
, 24 new homes (0 - 3050 sq.ft.)
Bigelow Homes is pleased to introduce one of the most highly-anticipated new home communities in San Marcos in recent years. This exciting neighborhood, nestled within steps from the Blanco River and next to the Quail Creek ...more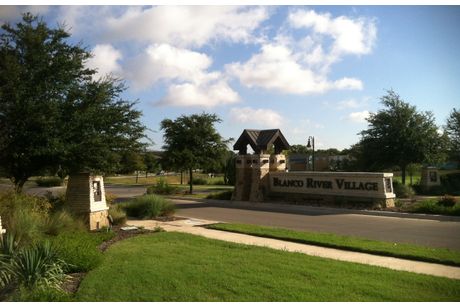 Homes & plans
3 photos

From $132,765

1,220 sq ft

2br 2.5ba 2gr

4 photos

From $136,950

1,200 sq ft

2br 2.5ba 2gr

2 photos

From $195,011

1,850 sq ft

4br 3ba 2gr

2 photos

311 Rachel Street (The Laura Negley I)

From $182,445

2,060 sq ft

3br 2ba 2gr

2 photos

312 Perry St. (The Mary Hartson II)

From $166,800

1,380 sq ft

3br 2ba 2gr

2 photos

From $181,270

3,050 sq ft

5br 3.5ba 2gr

From $179,770

3,050 sq ft

5br 4ba 2gr

2 photos

From $170,790

1,850 sq ft

3br 2ba 2gr

From $170,640

2,400 sq ft

4br 3ba 2gr

7 photos

From $169,860

2,060 sq ft

3br 2ba 2gr

2 photos

From $169,860

2,060 sq ft

3br 2ba 2gr

4 photos

From $166,400

2,270 sq ft

4br 3.5ba 2gr

2 photos

From $162,150

1,920 sq ft

2br 2.5ba 2gr

From $161,450

1,920 sq ft

3br 2.5ba 2gr

2 photos

From $157,365

1,380 sq ft

3br 2ba 2gr

3 photos

From $156,000

1,600 sq ft

3br 3ba 2gr

2 photos

From $155,360

1,380 sq ft

3br 2ba 2gr

4 photos

From $153,000

1,600 sq ft

3br 3ba 2gr

2 photos

From $148,430

1,570 sq ft

4br 3ba 2gr

2 photos

From $147,430

1,570 sq ft

4br 2.5ba 2gr

4 photos

From $142,140

3br 2ba 2gr

2 photos

From $137,000

1,060 sq ft

2br 2ba 2gr

4 photos

From $129,220

1,200 sq ft

2br 1.5ba 2gr

3 photos

From $126,530

1,220 sq ft

2br 1.5ba 2gr
12 matching homes shown. See all »

Community info, schools & amenities
Blanco River Village
Bigelow Homes is pleased to introduce one of the most highly-anticipated new home communities in San Marcos in recent years. This exciting neighborhood, nestled within steps from the Blanco River and next to the Quail Creek Country Club, offers innovative and unique homes, sure to meet the needs and wants of today's homebuyer. For more information on these energy-efficient homes and Bigelow's famous cooling cost guarantee, log onto www.BlancoRiverVillage.net.
Visit the website
Free brochure
Area Schools
John H Wood Jr Charter SD
Actual schools may vary. Contact the builder for more information.

Get directions from...
Unable to get driving directions
Driving Directions to Sales Center
From I-35, go East on 80, North on 21, and the community is on the left.
Blanco River Village
by Bigelow Homes
417 Shadow Point
San Marcos, Texas 78666

Next steps
Save and share
More sharing options
Get more info
Want to keep looking?

While Builders Digital Experience seeks to ensure that all of the information concerning new homes and new home communities, as well as other data on the site is current and accurate, we do not assume any liability for inaccuracies. It is your responsibility to independently verify information on the site.